Here's my project truck. (see the before photo in the 'new member' section) So here's a run down of what I did.
Preparation:
I hit all the rust with a wire brush on my drill, had to go through bubbling paint and bondo to get to the problem spots in some areas. Hit all the bare metal / rusty metal with rusty metal primer (spay can). I sanded the entire truck with 80 grit sandpaper by hand. I then applied spray can automotive primer to the sides of the truck, mainly so I could spot problem areas better. Applied bondo to cover rust holes, and areas where I had removed the bondo to reach rust.
Attempt 1:
I did a 75% Ace Rust Stop 'Safety Yellow' to 25% mineral spirits. First coat with a large foam roller, I put it on way too thick and had bubbles and runs all over the place. I guess I misunderstood the info I had read that said these would take care of themselves. Needless to say the next day after it had dried I had a bubbly and runny mess of a yellow coat job that only looked good from distances beyond 100ft

So I went out and bought a electric sander and hit the whole truck with 80 grit to remove most of the paint. If there was a plus side the paint did fill in some of the imperfections.
Attempt 2:
This time I bought a proper 4in foam roller and went with a 50/50 mix and applied it very gently. I did this but after about 4 coats and still clearly seeing the base coat I started laying on thicker coats. I was hoping to get it done in 7 coats but it took 9 and the last coat was a 75/25 mix paint/thinner because I really didn't want to have to do a 10th coat. I ended up putting the 10th coat on the driver's door and bedside anyhow because it thinner over there for some reason. It has mostly total coverage now, you can still see through it if you look really hard in some areas but it was good enough for me. As for my technique I painted with one roller and came back with a dry roller to pop all the bubbles. 3 coats, sand with 600, and sand with 800 every other coat after that.
Coat 1

Coat 2

Coat 3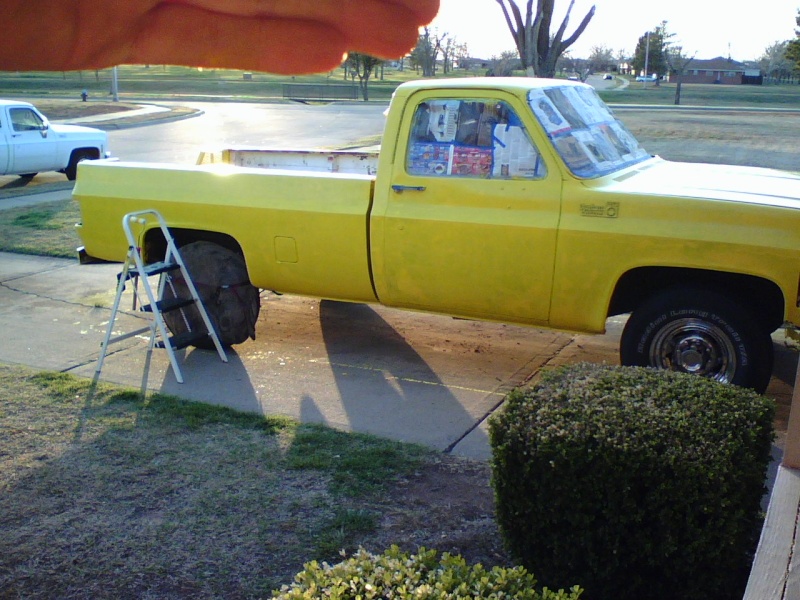 Coat 4

Coat 5
Coat 6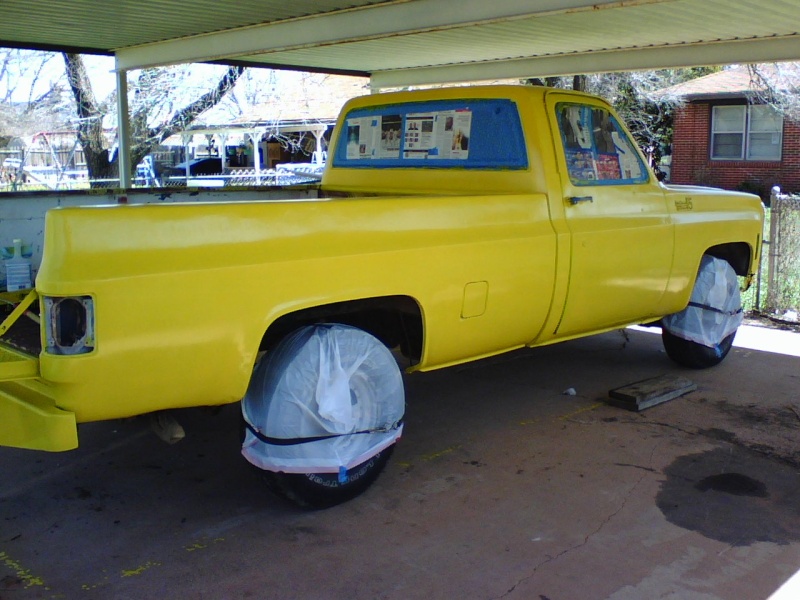 Coat 7

Coat 8

Coat 9

I admit I was getting in a hurry with the last few coats but after painting for 8 days I was ready to be done painting! The very light coat method was taking too long so I started putting on ticker rolls of paint and paid the price for it with more orange peel. As you can see in the photos below the unsanded paint is pretty horrid, but thankfully, (and to my surprise even!) it cleaned up real nice! To get anywhere in a reasonable amount of time I'm sanding off the orange peel with 400 grit, then smoothing it out with 800, then 1000, then 1500 then 2000. Then using a polishing compound. The photos below were taken after the polishing, no wax yet.
Before and after shots of the hood, there is hope!


I'm unsure if sanding off all the orange peel will be possible on the entire truck as I'm getting close to sanding all the way though in some areas. Fortunately the hood has the worst orange peel and the sides faired much better and should require less sanding to get similar results. So looks like I'll be sanding all day tommarow, hopefully I can get it done in 2 days but I'm not getting my hopes up.

Rank





Number of posts

: 5


Age

: 37


Location

: Altus, OK


Project

: 79 Chev C20


Registration date :

2012-03-13



Get as much of it perfect, as you can. Then later you can go back and perfect the other areas.
400+ Poster!





Number of posts

: 598


Age

: 51


Location

: Cincinnata


Project

: 1988 Mustang GT convertible


Registration date :

2010-10-07



Or!

Looks like the center portion of the hood is the problem area.

1.Polish/sand the good parts of the truck.
2.Sand raised portion of the hood all the way down.
3.Rattle can that part satin black.

= Bad a## truck!

Mike
Rank





Number of posts

: 49


Age

: 55


Registration date :

2010-09-23



Rank





Number of posts

: 5


Age

: 37


Location

: Altus, OK


Project

: 79 Chev C20


Registration date :

2012-03-13



OK, pop those emblems and gun-metal gray spray paint 'em

Mike
Rank





Number of posts

: 49


Age

: 55


Registration date :

2010-09-23



I actually tried to take them off before I painted, but turns out they are actually bolted on and I didn't want to break them off or remove the panel to take off the bolts. I ended up using a black permanent marker to highlight the raised lettering, it turned out well I think.
Truck had to be returned to drivable status earlier than expected. So here it is back together, certainly an improvement over the original look. Will have to sand down those panels probably one at a time, when I have time. Those chrome wheels polished up nice too!
Before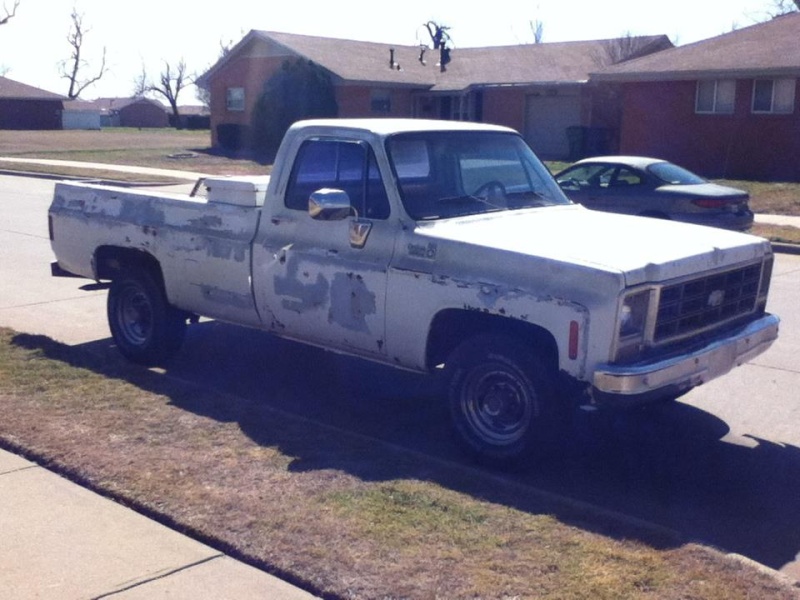 After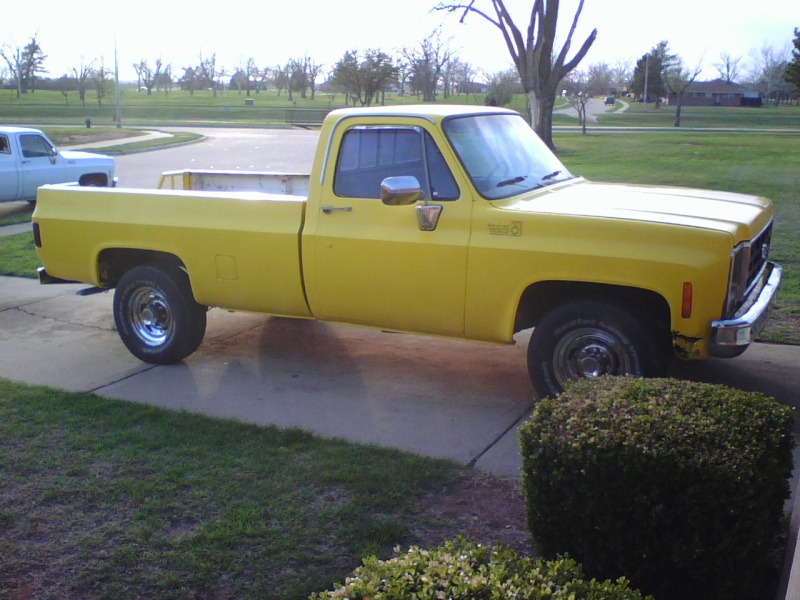 Rank





Number of posts

: 5


Age

: 37


Location

: Altus, OK


Project

: 79 Chev C20


Registration date :

2012-03-13



Look's great a definate improvment !!!!!!
400+ Poster!





Number of posts

: 562


Age

: 45


Location

: north carolina


Job/hobbies

: auto parts manager/classic and antique cars


Project

: 1964 falcon,1967 mustang fastback


Registration date :

2011-06-15



---
Permissions in this forum:
You
cannot
reply to topics in this forum