Hi all,
After repainting (in celly) most of my daily driver 1973 MGB GT each year over the past three years and suffering paint reaction problems, I've decided to go down the rolled-on Rustoleum root. I only paid £500 for the car and the car had had a hasty and poor quality respray when I bought it. After adding two coats of Barcoat barrier paint last year and the year before, I've cracked most of the paint reaction problems, although the celly still dulls after a few months use and besides I want to go red!
I can't afford a full respray, I've been quoted six times what I paid for the car, and this is without me I explaining the car was vandalised with paint stripper/brake fluid and possibly dented/gouged when it was less than three years old and then left untouched for nearly twenty years! Besides I'm frightened by what I might find under the several layers of paint and understandably no professional spray shop is going to want to do a paint job over such an unknown commodity and would rather work from bare metal.
I've had a little dabble with Rustoleum over the past couple of days, and despite a couple of early hiccups I'm liking the results I'm getting so far. I repainted a Morris Minor Traveller by brush using Jenolite Re-paint back in the late 70's and the results were pretty good, so I'm confident I can achieve a half-decent job with time.
I'll start a project thread later, but for now here's a couple a couple of teaser pics of what I've done so far:
This is what I started with: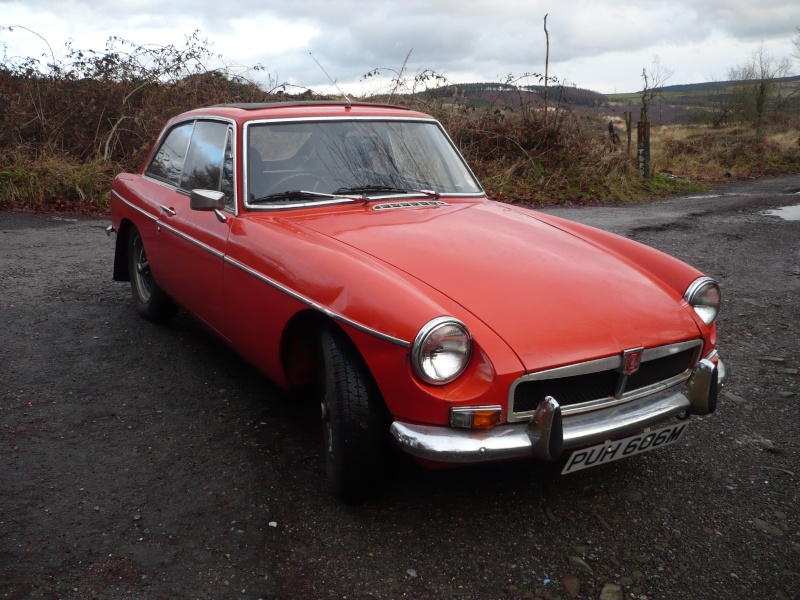 Here (late Spring 2009) I had recently resprayed the sides and front (the roof and boot lid weren't too bad). It was about 8 weeks before the celly started to react and looking like the skin from an elephant's balls: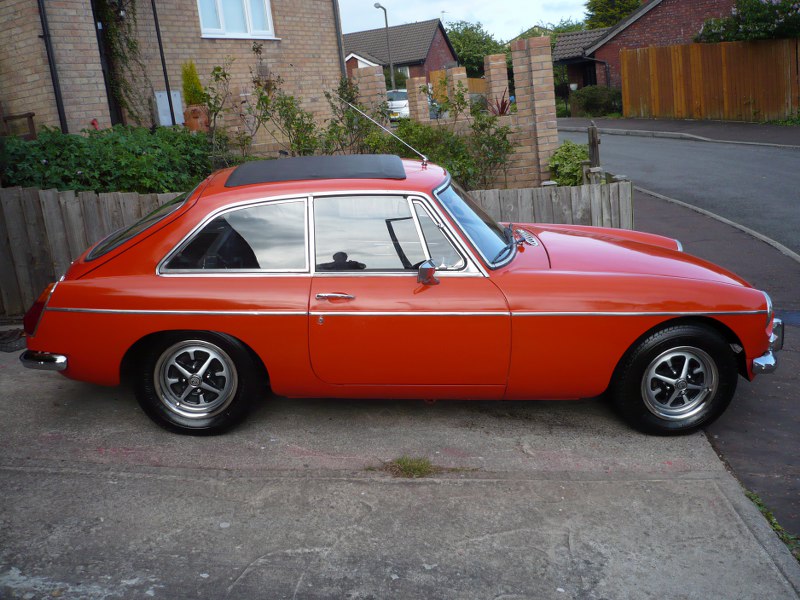 Dulling paint and too much wet sanding have taken its toll: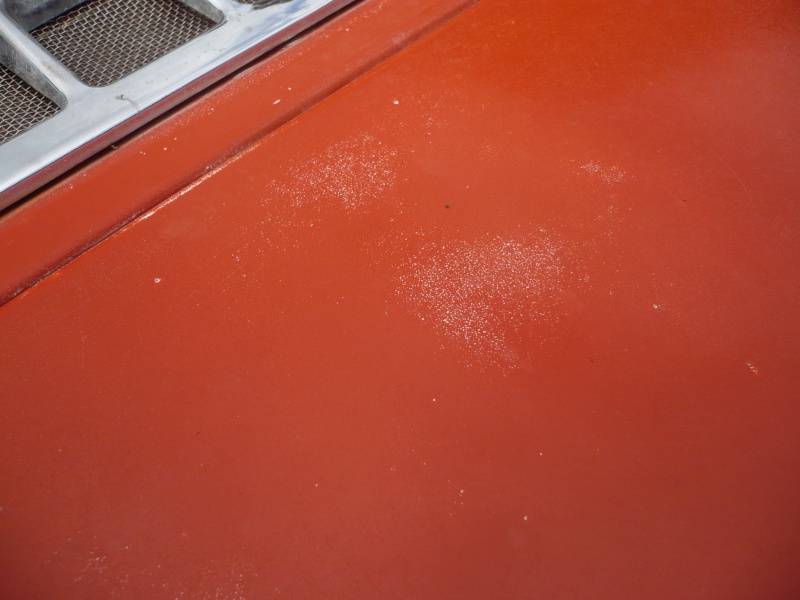 My first test paint was under the bonnet.
The slam panel before with a bit of basic prep and degrease. I bet the PO paid good money for that paint job!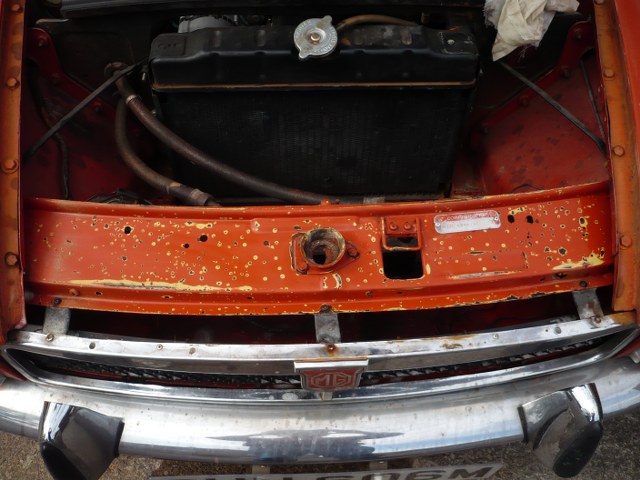 ...and then with two coats of Rustoleum laid on with a Hamilton's Perfection bristle brush: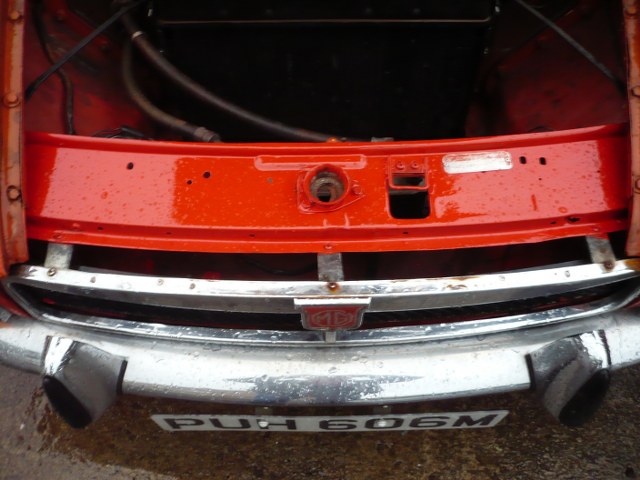 I couldn't resist and had to try a test panel on the car. I wet-sanded the topcoat and laid down two coats of Rustoleum by roller - the first layer was a learning curve and required a fair bit of wet sanding, although I must say Rustoleum wet sands nicely. You can see the contrast between the new paint (three hours after painting) and the old paint on the front wing - it hasn't been sanded it has really gone that dull!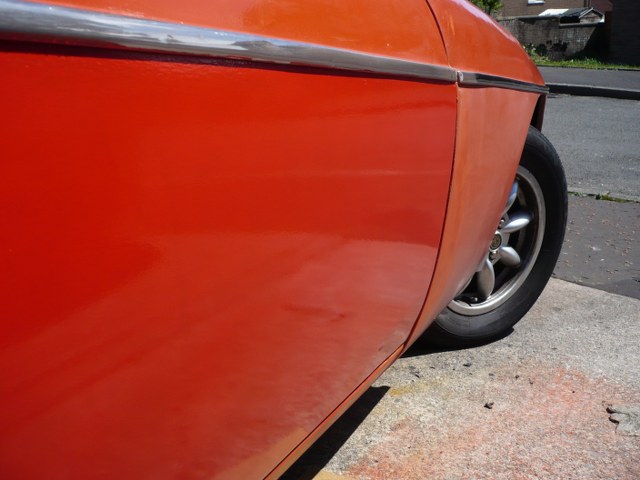 I know I should have removed the trim, I will do for the full paint job!
It's covering well and the orange peel is probably no worse that you would have expected on a cellulose painted car from the 70's so I may not even flat out too much on the final coat if it stays this nice.
I'm planning to do the whole car early June, although if the weather's fine enough before then I may start on the shut lines and valances before. There are a couple of minor rust scabs that need treating before then also.
As I said earlier, I'll start a project thread later, but until then thanks for your inspiration and thanks in advance for any help and advice, there's some superb results on here.
Cheers,
Mike
Edit: The original colour is BLC Blaze Red (orange) but I'm repainting in Rustoleum CombiColor 7366 (RAL 3020).
Rank





Number of posts

: 14


Age

: 58


Registration date :

2012-05-07



Welcome....Great looking car you have there.
1000+ Poster





Number of posts

: 1275


Age

: 57


Location

: Rochester NY


Job/hobbies

: Sales welding supplies


Project

: 1963 Falcon Convertible


Registration date :

2009-04-06



Welcome, nice little GT ,I have alway's liked those little car's!!!!
400+ Poster!





Number of posts

: 562


Age

: 45


Location

: north carolina


Job/hobbies

: auto parts manager/classic and antique cars


Project

: 1964 falcon,1967 mustang fastback


Registration date :

2011-06-15



---
Permissions in this forum:
You
cannot
reply to topics in this forum