First I wish to say greetings and I see plenty of good paint jobs. I realize I am a new member but I have practiced the roller and rattle can paint job on a spare engine lid for almost a year. I am going to list the best advice I can offer to help you turn your good paint job into a better than average paint job. This in no way means I am putting down anyones hard work and effort. I respect anyone who is willing to take on such difficult tasks in order to learn and complete projects in a DIY manner.
From a lot of pictures I have seen most folks stop with a decent finish. I personally could not stop myself until I was happy. I ran into the issue where either up close it looked great but from a far it looked very distorted, or vice versa. I learned that I wasn't doing my final wet sand very well. This is where I learned it did not matter if I rolled it or sprayed it, I was messing it up in the end.
The picture below is of my finished roof. As you can see it is very smooth and reflective. That is also with the camera right on the roof taking the picture, not zoomed in, during a normal summers afternoon.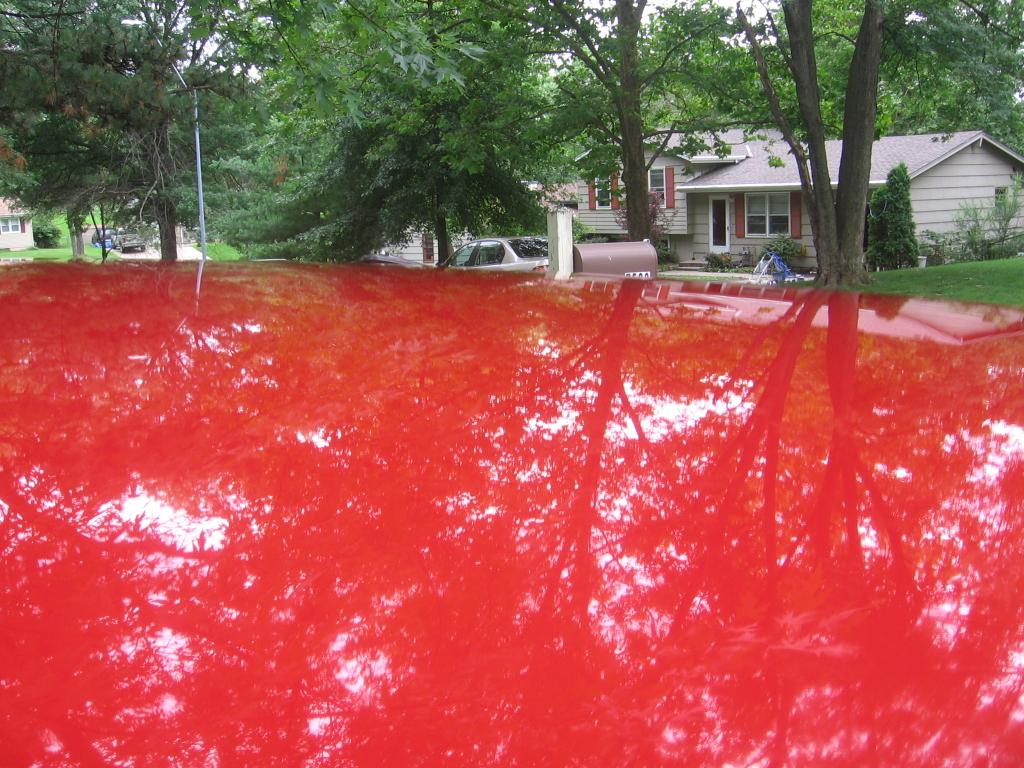 To be honest, I had sprayed it with Rust-o-Leum Sunrise Red (rattle can). I had put down so much orange peel and over spray, that the day that picture was taken, I was actually sanding it down to respray. I used a 3M sanding block with 1000 grit paper. After a little bit I started to notice the paint flattening out so I switched to 2000 grit. You will notice a bit of a reflection in the sanded paint. That reflection is a sanded area that shows how well the paint was flattening.
Now the trick was the sanding block. From the spare engine lid I learned that when I used my hand to wet sand it would also sand the low spots. While a sanding block sands flat and kills the peaks of the orange peel paint. Here is where I think some of you have stopped. Again, I mean no disrespect, and I applaud everyones efforts in painting their rides.
Another thing I learned was to tape off edges and sharp curved areas. This helped me from sanding through the paint around these areas. These spots I would hand sand but very lightly.
This is my car as of out last MR2 meet in KC in October '08. This picture was taken by Kyle Lackey with a rather expensive camera. And no he did not alter it in any way shape or form.
I have painted most of my car but never got it completely finished due to lack of time. This summer I will be finishing it up. I am also going to attempt using a spray gun with an air compressor. I do have a spare trunk lid to practice on LoL. I posted all of my work on mr2oc.com to share with fellow MR2 owners. One of those owners sent me this link to this forum. So I figured I would share my experience with you nice folks and give you all two thumbs up for all the hard work.
For more pictures of my car
http://www.mr2miach.com
Rank





Number of posts

: 61


Age

: 45


Location

: Eden Prairie


Job/hobbies

: Very active MR2 Owner


Registration date :

2009-03-10



Nice car.
Thank you for the comments about painting. Especially the one about using a sanding block and why. I have been painting as a hobby for 40+ years and I think sanding is one of the most misunderstood areas there is when you talk about painting.
Mike
1000+ Poster





Number of posts

: 1004


Age

: 73


Location

: Tucson Az finally


Job/hobbies

: retired honey does and the occasional custom car (old school)


Project

: figuring out how to do metalflake


Registration date :

2008-04-27



Thank you for the compliments. It honestly took me awhile to figure out the key is sanding. Not only when you finish, but when you start as well. If you don't start with a good surface, you sure aren't going to finish with one. I also agree, sanding is a misunderstood art form all its own.
Rank





Number of posts

: 61


Age

: 45


Location

: Eden Prairie


Job/hobbies

: Very active MR2 Owner


Registration date :

2009-03-10



How many cans/coats? And did these cans have the trigger style top? Nice results, by the way.
Rank





Number of posts

: 60


Age

: 50


Location

: Long Island, NY


Job/hobbies

: Facilities for a large company


Project

: 93 Mercury Tracer 4 door.


Registration date :

2008-09-27



I went through roughly 14 spray paint cans and my goal was minimum 3 good solid coats per panel/area I painted. I also purchased the cheap little trigger adapter that attaches to the spray paint can so my fingers wouldn't get tired. And thank you as well for the complimet.
Rank





Number of posts

: 61


Age

: 45


Location

: Eden Prairie


Job/hobbies

: Very active MR2 Owner


Registration date :

2009-03-10



Car looks great. Nice gloss. Good info.
Rank





Number of posts

: 9


Age

: 48


Location

: Charlotte, NC


Registration date :

2009-01-07



Nice job on your MR2. Thank you for the hints and no you did offend anyone. This is a forum to help people paint(primarily rolled/spray) inexpensively and with very good results. It helps someone new like me enter this arena.
Rank





Number of posts

: 5


Age

: 47


Registration date :

2009-04-26




Similar topics
---
Permissions in this forum:
You
cannot
reply to topics in this forum