A fellow MR2 Owner sent me a link to this place and I thought I could share my work. I also posted some tips in the tips section
http://www.rolledon.com/news-suggestions-f7/tips-on-your-diy-paint-job-t341.htm
Here are some pictures all these pictures were taken with my Canon camera.
Before: A few days after I got her running.
Next: Did the Papo J front bumper Mod
Repair time: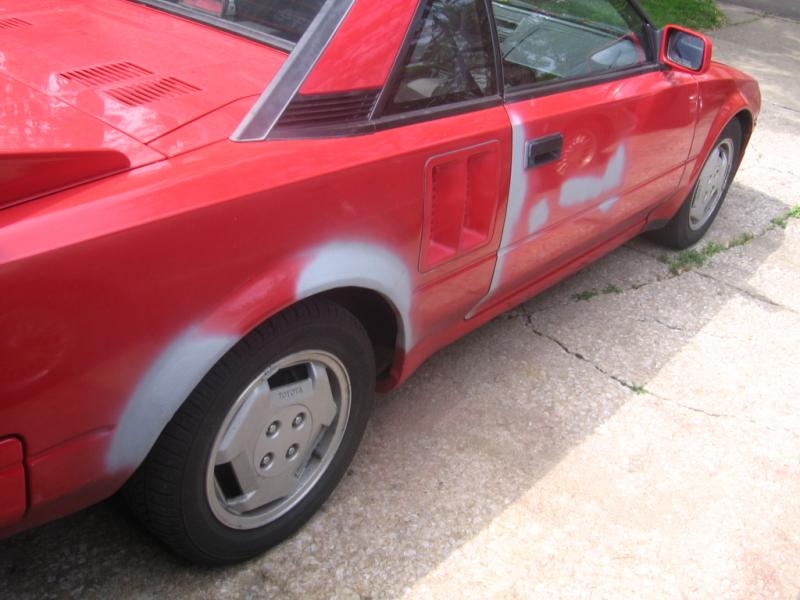 ................
After Painting:
................
................
................
All images on are my website
http://www.mr2miach.com
Let me know what ya think!
Last edited by MR2Miach on March 14th 2010, 10:15 pm; edited 1 time in total
Rank





Number of posts

: 61


Age

: 45


Location

: Eden Prairie


Job/hobbies

: Very active MR2 Owner


Registration date :

2009-03-10



I am back at this project now that I have some extra time. I have learned a few things since my spray paint job.
First thanks to jbudi101 we learned that you can roll/brush on automotive paint if need be. We did not use a metallic style paint and I fear it would be extremely hard to do. Here is a link to his thread
http://www.rolledon.com/projects-f2/1991-mr2-turbo-paint-brush-job-t344.htm
and I also have a picture of the finished work. Keep in mind the color (that was supposed to match) did not match as close as we had hoped.
First they are both his MR2's but the one on the right is the one we painted (drivers front fender)
So this got me to thinking, why not replace the auto paint with rusto. Well I decided to give it a shot. Mixture I have had best results with so far is: 4 parts Rust-o-leum (sunrise red), 3 parts automotive reducer medium level (for acrylic enamel), 1 part mineral spirits, and 0.5 parts automotive hardener (again for acrylic enamel). With this mixture I get a much faster dry time but it dries to a harder finish. It wet sands just like automotive paint, dries in 4-5 hours, and self levels much better than just rusto with mineral spirits. On to the pictures.
4th coat with my new mixture, dry and unsanded/polished
Wet sanded after 4th coat
5th coat of paint almost completely dry (just a tad sticky still)
Rank





Number of posts

: 61


Age

: 45


Location

: Eden Prairie


Job/hobbies

: Very active MR2 Owner


Registration date :

2009-03-10



---
Permissions in this forum:
You
cannot
reply to topics in this forum