I am interested in re-painting this: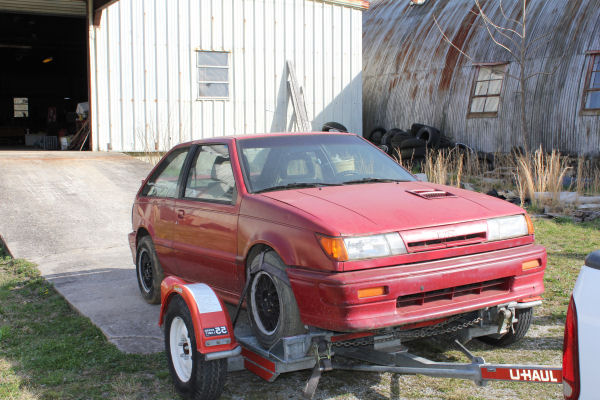 It is an 1988 Isuzu I-mark Turbo
My questions are:
1. Do I need a clear coat? Please explain the clear coat. If I don't have a clear coat will my paint need constant waxing? I assumed that clear coats protest the paint, bit no one here seems to use them. Explain.
2. I have a spayer and a compressor, but no good place to spray. (That is to say I have a garage, but I don't want to turn everything in the garage red from over spray). Is rolling my best bet because I'm a noob? Or is rolling on the best option for people without sprayers and compressors?
I love the site. I'm in the process of reading the applicable posts... great stuff
scott
Rank





Number of posts

: 2


Age

: 41


Registration date :

2010-05-03



Welcome Scott
The clear coat you are speaking of comes from the base coat/clear coat polyurathane auto paint used for the last 20-30 years. The base coat has the color amd metallic in it but is not shiny. The clear coat has the good UV stuff in it and gives the shine. This paint is also baked at the factory. You can buy this paint at a auto paint store and it will set you back $3-500 a gallon to get all the necessary things. I have some and tried it. It won't roll.
The stuff we are talking is different (lol)It is teck from the 60s. It is oil based enamel (rustoleum is one brand name) that can be mixed with mineral spirits and is cheap....well, reasonably inexpensive. However , you can't get clear in quarts in the U.S.. Tremclad is the same but that is rusto in Canada and they have bulk clear. (This was the standard type auto paint for many years, along with lacquer, untill poly came along) Some here have used Brightside which is a poly boat paint with good results.
Problem being is that you are stuck with their colors or a mix of them. I have been painting as a hobby for over 40 years and have found that regular acrylic enamel will also mix with mineral spirits so the color range just got a lot bigger and you can get that in clear. Problem with that is it costs a lot more than rusto.
You don't need clear with rusto they say and several people have done this years ago and say it has held up well. However, rusto has now come out with a U.V. paint called topside (I think thats the name). Some like to add a coat of clear as protection but most don't because it adds to the cost and is really hard to patch if needed. If you do metallic tho, you need the clear to protect the metallic when you do the final sand before buffing.
You could hang viscrene up in your garage if you wanted but spraying also has its learning curve and it is a lot larger than rolling but spraying you can be done in one day. Your car is small so I would say roll. If it was a 4 door dully pickup I would definately spray

. I will say tho, which ever way you go, prep is the most important part. If you screw up a coat of paint....its just paint. sand it off and go again. This is not rocket science. Just relax and have fun.
Anyway , sorry for the book but I hope I answered your questions.
Mike
1000+ Poster





Number of posts

: 1004


Age

: 73


Location

: Tucson Az finally


Job/hobbies

: retired honey does and the occasional custom car (old school)


Project

: figuring out how to do metalflake


Registration date :

2008-04-27



Thanks for all the info. Looks like your the "go to" guy for questions. As it gets closer to time I'm sure I'll have more stuff I'm unsure about.

Thanks again
Rank





Number of posts

: 2


Age

: 41


Registration date :

2010-05-03



retired plumber wrote: If it was a 4 door dully pickup I would definately spray

.

Mike
Well, at least mine isn't a dually. Hah!
Rank





Number of posts

: 24


Age

: 40


Location

: Utah


Project

: 1990 F-350


Registration date :

2010-03-25



---
Permissions in this forum:
You
cannot
reply to topics in this forum